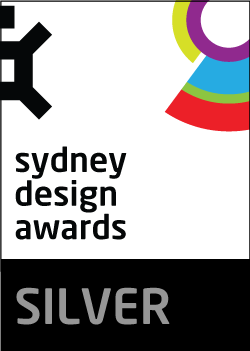 Project Overview
Nestled on the ocean's edge in one of Manly's most exclusive residential enclaves, Bower was a collection of luxury apartments that were inspired by the majesty of the surrounding environment.

We were commissioned to create a brand and suite of marketing collateral for the project that were befitting of arguably one of the best luxury developments in the area.
Project Commissioner
Project Creator
Team
Lars Weisenberger - Creative Director/Copywriter
Alysha Sandow - Senior Designer
Lauren Bamford - Photographer
Ant Bray - Account Director
Michelle Davis - Account Manager
Project Brief
Keep it simple and allow the beauty inherent to the location and the building shine through.

That was essentially the brief we received for Bower. It was steeped in the philosophy that the product we had to market was so unique and spectacular, it didn't require any marketing hooks or gimmicks to sell.

Oceanside apartments priced from $6M tend to appeal to a very niche market, so the entire sales strategy we adopted was less traditional than usual. The majority of the campaign was going to take place off market, so we only needed select items to get it off the ground. These included a marketing brochure, agent sales kit, plans, a website and on site signage. Even though there wasn't a lot on the client's shopping list, they were very insistent that every item adhere to the very highest standards, mirroring the design approach that had been taken with the building itself.

The only other mandatory thing that we needed to achieve, was to ensure that the developer's name was a prominent part of the branding. CostaFox Developments were a new company, set up by 2 partners with extensive property experience. However, since their new venture did not have the profile they did as individuals, they wanted to ensure they got maximum brand awareness out of the development.
Project Innovation/Need
The way we brought a level of innovation to this project was by realising that "innovation" was not what was required.

More and more property marketing is moving into the digital and technology spaces. Touchscreen interfaces, VR, life-size projections and digital advertising are all reasonably commonplace in the modern property marketing campaign. However, for a project such as Bower, these items made no sense for the target or the story we wanted to create.

Instead we wanted to go a little old school and create a campaign that felt crafted, tactile and personal. The development was going to be marketed to high net worth individuals on the real estate agent's database, as we were sure that purchasers were most likely already in a similar property within the local Manly area. These people were, generally speaking, mature and cultured. They had a taste for the unique and bespoke. Exclusivity was the key to their luxury tastes.

To appeal to these people, we crafted collateral that felt unique. Instead of a brochure, we created a book that showcased amazing visuals of the building, alongside a collection of stunning photography of the local area. Our plans were A1 and rendered in full colour. They were presented in a custom tube, giving the impression that they were coming direct from the architect. Everything was designed to come across like a limited edition, so that our prospective purchasers experience felt like one in a million.
Design Challenge
The biggest challenge we encountered during the brand development process for Bower was probably the timeframe and logistical issues of a Melbourne based agency running a project in Manly.

We had run projects interstate many times before, however, the modest lead time we had to create all the required materials meant that we needed to find new ways to move quickly and efficiently. Even simple tasks like planning a photoshoot, take so much longer when you're scouting a location 900km away.

Thanks to a solid team effort and the assistance of some wonderful collaborators and suppliers, we were able to meet all the required deadlines, without sacrificing on the quality of our branding and design.
Effectiveness
The success of Bower exceeded everyone's expectations. The development sold out in a matter of weeks, without ever publicly launching.

It was so successful that it set a new price per square metre record for Manly, which is an incredibly impressive feat.

We believe that the brand, collateral and the experience they created, actively contributed to building the desirability of the development, which ultimately translated to sales (we're sure the amazing apartments and one of a kind location helped too).
Graphic Design - Identity and Branding

This award celebrates creative and innovative design in the traditional or digital visual representation of ideas and messages. Consideration given to clarity of communication and the matching information style to audience.
More Details