Image Credit : Trevor Mein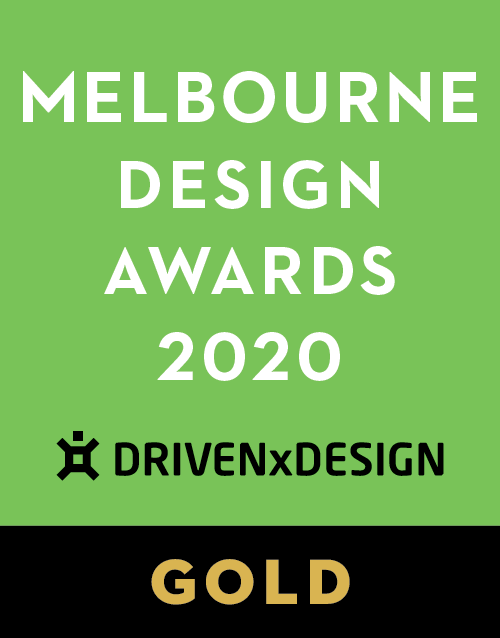 Project Overview
Created by Piccolo and designed by Wood Marsh, Piccolo House is a benchmark mixed-use development that encompasses retail, commercial, multi-residential and a new headquarters for Piccolo into one unified concept.

The unique island site allows the architecture to be expressed on all sides. Fronting Dorcas Street the original Victorian terraces have been meticulously restored and reinstated incorporating office and retail which in turn create street activation and connection to the neighbouring Clarendon Street retail precinct. Behind this facade sits an off-form concrete framework containing coloured reflective glass elements that along with other material selections for the podium reinterpret the autumnal tones of surrounding brickwork. The subtly angled cut-outs into the concrete framework are akin to the carving of a block of stone.

Architectural and interior experiences are merged, the building entry via John Street is signified through mirrored glass and blackened steel, the lobby interiors mimic the colourful exterior with autumnal tones of mirrored glass. Four levels of well-crafted one and two-bedroom apartments sit above offering clear views of Melbourne's urban skyline.

On the upper level, the Piccolo penthouse office reinforces the materiality of the building using silver travertine from inside to out as a reinforcing the idea of stone being carved away. With the qualities of a high calibre residential project, the resulting palette is intentionally dark, timber, black and bronzed metal.

Effortlessly merging heritage and new, exterior, interior, retail, commercial and residential, Piccolo House is a direct statement of both Clients and Architects values.


Organisation
Team
Developer and Project Manager - Piccolo
Architecture and Interiors - Wood Marsh Architecture
Landscape Design - Taylor Cullity Lethlean
Structural Engineer - 4D Workshop
Services Engineer - ALA Consulting
Environmental Consultant - ADP Consulting
Building Surveyor - Reddo
Planning Consultant - SJB Planning
Heritage Consultant - Bryce Raworth
Quantity Surveyor - Rider Levett Bucknall
Land Survey - Veris
Traffic Engineer - Traffix Group
Acoustic Consultancy - Acoustic Logic
Fire Engineer - Thomas Nicolas Fire Safety & Risk Engineers
Waste Consultant - Leigh Design
Project Brief
Boutique Developers Piccolo procured this unique site with the vision of creating a landmark mixed-use development that would include a new headquarters whilst showcasing Piccolo's commitment to quality and design.

To bring the vision to life, Piccolo collaborated with Wood Marsh with a view to integrating a series of mixed uses within a singular development. These uses were to include flexible retail and office space housed within the existing heritage buildings addressing Dorcas Street, luxury multi-residential apartments focussed on the progressive build-to-rent property model and a new home for Piccolo's own office – a space that would reflect and reinforce the Piccolo brand.

These uses were to sit seamlessly alongside each other yet operate fully autonomously within a development that would have a consistent thread of quality detail and design.

A focus on high quality indoor environments, maximising the use of natural light and the 360 degree views afforded by an island site whilst maintaining security and privacy completed the brief.

Project Innovation/Need
Piccolo identified a gap within the South Melbourne market where the demand for high quality rental housing was growing. With a progressive approach to development the potential of this site to include a build-to-rent model for apartments was realised at the onset. As early adopters of this model it allowed a niche in the market to be filled with a stand-out high-quality rental opportunity that had outstanding amenity on its doorstep.

The inclusion of a café space with outdoor seating was used as a means of providing further amenity to the site creating a visual and physical connection to the adjacent vibrancy of Clarendon Street as well as complimenting the other uses within the development.

This vibrancy is also evident in the laneway activation created by the use of public art. Seen as a means of giving back to the community the planning permit requirements for the inclusion of public art were used as a positive to transform Charles Street from a dark laneway to a vibrant night-time experience for the end user whilst providing opportunities for passive surveillance. The podium design references Richard Giblett's paintings on the contemporary metropolis, and reinterprets it into physical urban art using a materiality of Coreten and various shades of steel. By night this urban art intervention becomes illuminated, drawing similar ideas to the artwork of Dan Flavin, by painting the street surface with light.

Design Challenge
The constraints of an island site of only 700 square metres that contained significant heritage buildings located within a heritage overlay and set amongst a network of historic laneways proved a challenge from the outset.

Ultimately these constraints led to a considered approach with respect to design and planning, concerns over the interface with the heritage streetscape of Clarendon Street led to the building being capped at six storeys and setbacks were employed behind the retained heritage facades on Dorcas Street to overcome concerns over the sensitive heritage interface.

The potential of these setbacks were maximized through the creation of a landscaped terrace for the penthouse office. TCL in collaboration with Wood Marsh created a landscape to complement the overall design intent, travertine flows from inside to out whilst low-maintenance planting contained within raised beds softens the boundary interface. Mature deciduous trees were employed to create shade in the summer and allow light penetration in the winter creating a visual connectivity to the surrounding trees-cape. The success of this landscaping is evident through its almost immediate establishment.

Despite an inner-city location, research found car parking provision was key to the development. Existing conditions rendered traditional parking unfeasible and following extensive research the only viable solution was through the provision of semi-automated parking grids. Set-backs were provided for access resulting in a recessive podium that incorporated a car parking system that was customised to integrate with the architectural intent and public art proposals.

Sustainability
Through an on-going commitment to ESD principles, and responding to pressing needs of environmentally responsible building construction, Piccolo engaged ADP to create ESD models of the building in the early planning phase where the bar was set for the building to achieve a six-star minimum energy rating which was eventually exceeded through achieving and average of 6.5 stars across the board, ESD principles incorporated into the building's design include:

• Tinted double glazing to increase the shading coefficient reducing air-conditioning reliance whilst floor to ceiling glass maximises natural light and increase spatial quality;

• Thermal mass of insitu and precast walls with strategically located insulation including an 'upside down' concrete roof;

• Electric car charging point to each space;

• Secure bicycle parking to limit the use of cars;

• Immediate access to public transport;

• Onsite solar generation for electricity to supplement an embedded network;

• High efficiency centralised solar-boosted gas hot-water service;

• Pumped loop to hot water minimizing dead legs of cold water;

• WELS rated fixtures and fittings;

• Natural light and ventilation to all habitable rooms;

• Natural light and sensor lighting to all common areas;

• Invertor A/C units throughout;

• Low VOC paints, adhesives, sealants and floor coverings;

• Durable zero maintenance façade;

• Provisions manage recyclables and waste from the site;

• UV filtered rainwater retention for toilet flushing and landscape irrigation managed by software connected to the Bureau of Meteorology to prevent unnecessary watering;

• Planters reduce the urban heat effect, deciduous trees create a shaded canopy in the summer and allow light penetration during the winter months.
Architecture - Mixed Use - Constructed

This award celebrates the design process and product of planning, designing and constructing form, space and ambience that reflect functional, technical, social, and aesthetic considerations. Consideration given for material selection, technology, light and shadow.
More Details