Image Credit : Terry Wedd Photography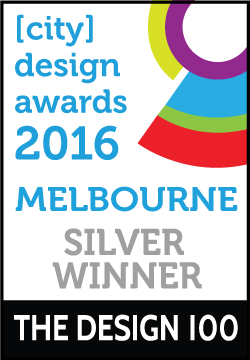 Project Overview
The MCC Jim Stynes Grill located in the iconic Melbourne MCG, provides it's members and those in the sporting community with the ultimate, memorable experience in dining and entertainment.

Taking a fresh approach to the traditional members lounge, Artillery created a modern inspired venue that successfully combines the dual functionality of a restaurant grill and conference space, whilst embracing the legacy of Jim Stynes.
Project Commissioner
Project Creator
Artillery Interior Architecture
Team
Primary Consultant: Artillery Interior Architecture
Building Services and AV Consultants: Umo Lai
Structural Engineering: Bonacci Group
Project Management: Case Meallin & Associates
Builder: One68

Project Brief
With the 'theatre of dining' being the main emphasis, showcasing an impressive menu and selection of wines and meats, Artillery's brief was to create a destination with a warm, welcoming and relaxed atmosphere that paid tribute to the late Jim Stynes. The space has dual functionality of restaurant and conference, so careful spatial planning and location of design features allowed the principles of the design to carry throughout the space.

As an homage to the Irish born Jim Stynes, green is selectively used throughout the space, whilst the introduction of cedar cladding is mused with traditional dark timber of the MCC members lounge. A refined palette of timber, green and brass is complemented by light oak furniture, creating a fresh and sophisticated setting. Smoked oak timber and green leather banquet seating paired with cedar cladding and feature lighting creates an intimate corner in the room.
Low level elegant lighting of glass and brass brings a sculptural element, enhancing mood and atmosphere, providing the finishing touch.

Project Innovation/Need
A key innovation for the project team was to deliver a modern, inspired venue with dual functionality - combining a restaurant grill with a conference space, that maintained a warm and welcoming feel. This was achieved through careful spatial planning, and a refined palette of timber green and brass. Lighting details were given special attention, enhancing the ambience and providing elegant sculptural elements to the space.


Design Challenge
Enhancing the design parameter of the existing ramp to create equal access was achieved by reducing the size of the main stair, and placing a large scale artwork of Jim Stynes parallel to the ramp, encouraging guests towards the main entry.
Upon entry to the restaurant, patrons are welcomed by large sweeping curved pods, encompassing an open kitchen, main bar and wine display, creating a sense of arrival and open visual connection between the MCG ground and Jolimont Park. The design features of an open kitchen, wine display and charcuterie add a sense of theatre, which are separated to ensure interesting elements are seen when the room is divided into two for events.

Sustainability
We are socially and sustainably focussed. Artillery SEED
(Social Equitable Environmental Design) finds its way into
all our projects.
As a matter of course, we design our architectural scope
in accordance with the principles established by the GBCA
(parallel to a rating of Green Star Best Practice).
This involves:
——Management: Operational waste (e.g. recycling bin
locations as a part of the design)
——Materials: Responsible and sustainable material,
finishes, furniture and equipment selection and use e.g.
local product, life cycle analysis etc
——Energy: energy efficient appliances
——Water: water efficient appliances
——Indoor Environment Quality: Low VOC and 0
formaldehyde material selection and plants (indoor
pollutants and indoor air quality), ergonomics, visual
comfort e.g. blinds and designing floor plans which
enhance the Indoor Environment Quality (access to
views, natural light etc)
Wellness is linked to Artillery's SEED and the way we
design for human well being. It is also integral to the way
we design and is developed in our Focus Groups at the
start of our design process.
Additional initiatives include:
——"Exploring Innovation in Sustainability and Design"

Interior Design - Hospitality

This award celebrates innovative and creative building interiors, with consideration given to space creation and planning, furnishings, finishes, aesthetic presentation and functionality. Consideration also given to space allocation, traffic flow, building services, lighting, fixtures, flooring, colours, furnishings and surface finishes.
More Details